Travel information and Venue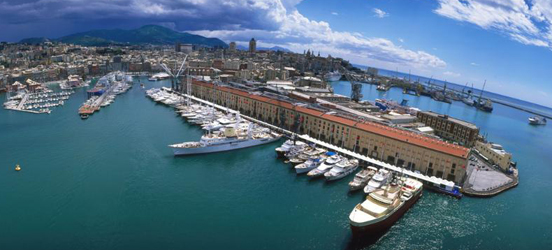 Eucas 2013 Conference will take place at Magazzini del Cotone conference facility located in the Porto Antico of Genova.
The Porto Antico of Genova area was restored to the city by architect Renzo Piano's redevelopment project, which was designed to regenerate life on the piers and wharves of the old port area with cultural, leisure and commercial activities, restaurants and areas for rest and relaxation.
"My plans for the 1992 Expo were underpinned by a very simple philosophy: to redevelop the architectural features of the area in such a way that it would continue to be used after the Colombus celebrations were over".
(Renzo Piano)

Visualizzazione ingrandita della mappa
How to reach the Conference Center
Airport: Genova "Cristoforo Colombo", 7 Km (about 15 min. by taxi) (volabus: Piazza De Ferrari and then via San Lorenzo by foot)

Railway Stations: Genoa P.Principe, 1 Km (Bus no. 1 to P.zza Caricamento or 10-15 min. on foot) (Metro: trains to De Ferrari, S.Giorgio station) Genoa Brignole, 2 km (Bus no. 12-13 to P.zza Caricamento)

Motorways: Genova Ovest, 2 km (A7-A10-A12-A26) After the toll station take the elevated road and leave at the first exit. Continue past the pedestrian entrance to the Porto Antico Area and turn right into the access road between the fish market and the Guardia di Finanza building.
GPS coordinates - Street Address: Via Magazzini del Cotone, 16128 Genova, Italia
latitude, longitude: 44.4079908, 8.9217726 N44° 24.4794', E008° 55.3064'

Port: Port of Genoa, 1 km (a few minutes on foot)

For further information: Porto Antico di Genova - Centro Congressi